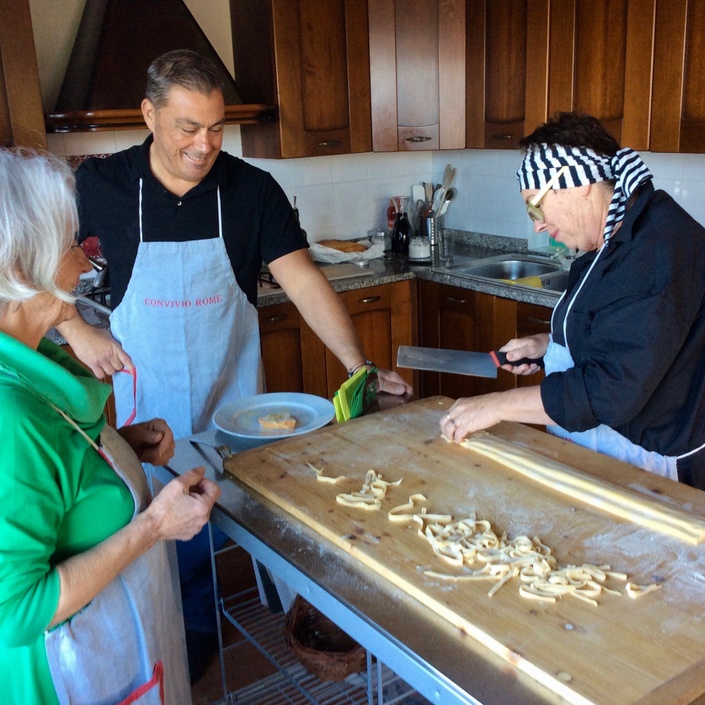 A Taste of Italy - Authentic Italian Cuisine
Learn how to cook from an eighth generation Roman
We know it is hard to find time to cook every day using fresh ingredients.
If you are looking for new recipes for your family that are fast, tasty and include easily sourced fresh ingredients, Guido's Authentic Italian Cuisine package is for you!
After many years of teaching Italian Cooking to English speaking guests, Chef Guido has created 'A Taste of Italy - Authentic Italian Cuisine' package, that he knows you will enjoy.
When following Guido's clear instructions, you will soon be able to quickly master:
3 traditional Italian recipes ( 2 savoury and 1 sweet) that you want to include in your weekly/monthly family menus. Each of these recipes are 'stand alone' and can be used in many family occasions.
You will master 3 classic authentic Italian recipes:
Cacio e Pepe Pasta dish
Baccala alla Romana - Roman salted fish dish
Ciambelle Vino Rosso - Red Wine Biscuits
These 3 step-by-step videos are easy-to-follow, suitable for all level cooks, filled with Guido's cooking tips and tricks and come with a written recipe and shopping list, so you have everything to quickly master Guido's traditional Italian family recipes. Plus we have included Chart of Seasonal Italian Vegetables so you know what's In Season and when to source your vegetables, like a true Italian!
Impress your family and friends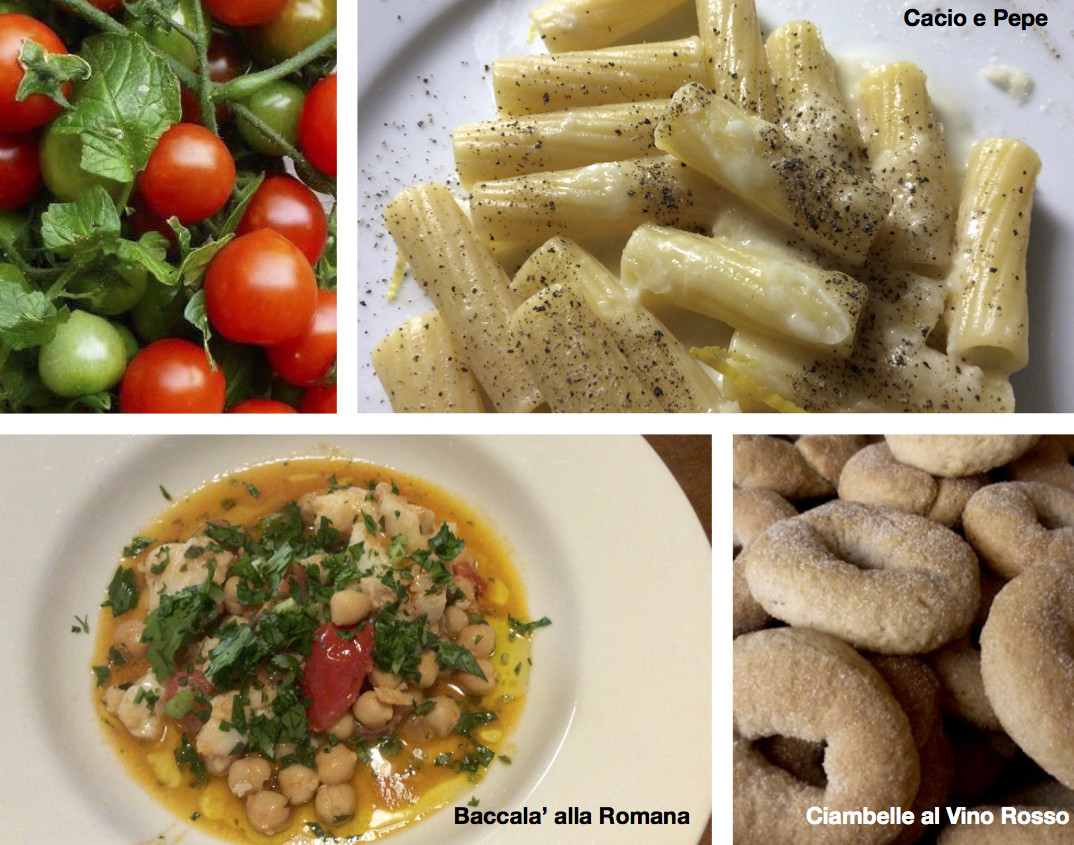 These authentic recipes come from Guido's family and they are simple 'go-to' recipes with easy to find/source ingredients that will soon become your family favourites.

You will discover, with Guido's tips and tricks, how to blend quality ingredients to get a wonderful balance of flavours, just like Guido's family has done for generations.
You will soon be cooking like an Italian!
Your Instructor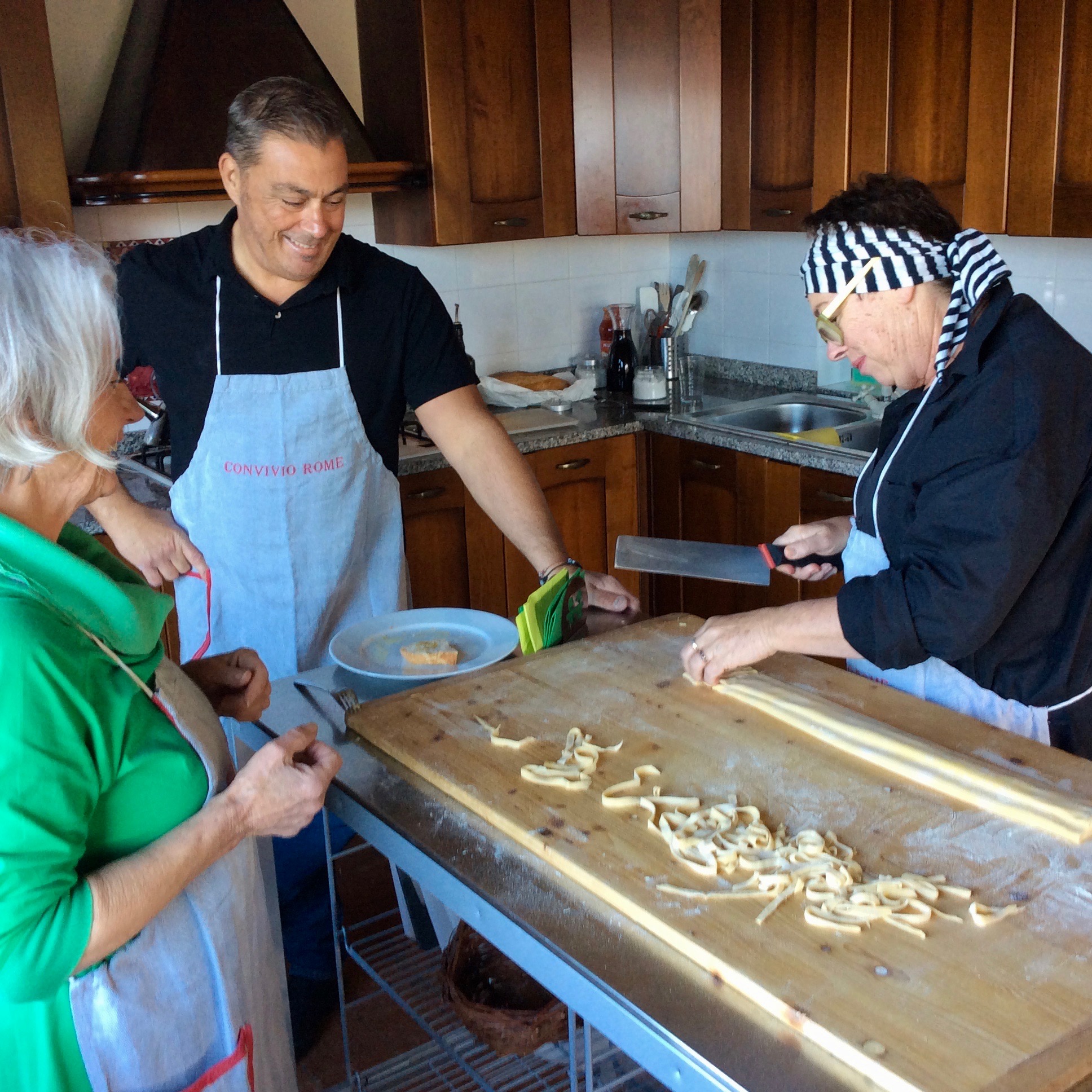 Guido is an 8th generation Roman with a passion for cooking. "Every evening, I prepare food for my wife and daughter that has come from my grandmother's family", says Guido. "The secrets of these recipes have been passed down from my grandmother to my mother and now onto me. I want to share this love and passion that my family has always had for good food and wine with you. When I was young, my father used to take me around the Roman countryside on weekend excursions to locate the finest cheeses and wines. Baskets of fresh ricotta were prepared in front of us by the local shepherd and loaves of wood-fired sour dough bread were bought hot from the bakery. It was an incredible education. I still remember learning to recognise the different scents of wild herbs during our leisurely walks through the fields. To me, rosemary, sage, fennel and Roman mint are the distinctive scents of the Italian countryside".
Guido has been a food editor for many years, during which he had the chance to meet the most celebrated Italian chefs and learn their secrets. He is fully bilingual and has been running cooking classes in Italy (the Sabine Hills and Tuscany), England (Cambridge) and Australia (Sydney) since 2001. He's also passionate about foraging wild herbs and vegetables and would like to share his knowledge with you.
Guido's currently teaches Italian cooking classes to English speaking guests in his family home, just north of Rome in Italy. His cooking classes have an emphasis on the freshest food available in season, the balance of flavours and ease of preparation. His classes are relaxed, fun and creative. In fact, Guido believes that inspired cooking always comes from a little bit of fun. When Guido is not teaching cooking, he is in charge of Rome olive oil tours and Rome Winery and wine-tasting sessions and running Convivio Rome Italian Cooking Holidays with his Australian wife, Sally.
Course Curriculum
Recipes
Available in days
days after you enroll
Seasonal Vegetables in Italy
Available in days
days after you enroll
Testimonials from Italian cooking class students, taught by Guido, in Italy:
1/ On behalf of our cooking class today, I want to thank you for a wonderful, memorable, and delicious day..... Guido, we all had such a good time watching, participating, learning. You are a master in the kitchen! The food was delicious, and we delighted in being able to participate in the preparation. Of course the lovely meal was a culmination of the day. Thank you for sharing your charming home with us, and for your warm hospitality. Your cooking class will be a happy memory for all of us. Best wishes, Carol J . Fl USA
2/ It has been almost two months since I attended your cookery course and want to say thanks, again, for a terrific time. I have made the dishes I learned from Guido a number of times. In fact the first thing I did when I got home was plant sage so I could make the saltimbocca at the drop of a hat. I am very proud to show off the pumpkin risotto using the simple method Guido showed me. I have learned that I can not skimp on plenty of freshly chopped rosemary so I have planted several more rosemary bushes. It is amazing that Guido could alter my approach to cooking and my garden after such a short time. But it was all about passion and love of fresh ingredients, prepared so simply and with focus on depth of flavour... I have recommended your cooking paradise to a number of family and friends and look forward to returning to a week of Roman cuisine bliss with you both. Grazie. Lynn F., Perth, W.A. Australia
3/ One of the highlights of our Italy trip was your cooking class. The class was better than expected with the hands on instruction of each recipe we made. Making a complete meal and sitting in your (family) taverna sharing was so nice. Your personalities and patience are ideal for the classes you provide.... We highly recommend the experience for anyone considering taking a cooking class. Thank you so much, Cindy and Marilyn, USA, Minnesota
4/ Patty and I would like to thank you for such a great cooking experience. It was one of the highlights of our trip to beautiful Italy. We had so much fun and met wonderful people from all over the world. Patty and I would also like to thank you so much for being such gracious hosts by inviting us into your home. I would love to return for a week long cooking vacation. Thank you again for your hospitality! (Additional feedback, followed):.... I know that I am repeating myself, but we had such a wonderful time. It was a priceless experience and an honour to cook with Guido (an 8th generation Roman) and learn many helpful cooking tips. I plan on making the veal saltimbocca (with the orange twist) this coming weekend for a dinner party I am having. I am very excited to try a new recipe! Again, thank you for an experience of a lifetime! I do hope to see you in the future, possibly for a week stay. All the best! Julie and Patty, RI, USA
5/ I want you to know that our time spent with you was the highlight of our trip as a family. Two days after we left your company, Judd wanted to go back. "See if they have room for us to cook with them for another day, Mom." That made me so happy.... that we found something so special for three different generations; myself, my son, my mom. I would like to send you ( a gift) as a thank you for the joy, culinary guidance and information, and touring that you provided for us. Claudia L. Moro Bay, CA. U.S.A.
Frequently Asked Questions
When does the course start and finish?
The course starts now as soon as you enrol! It is a completely self-paced online course - you decide when you start and when you finish.
How long do I have access to the course?
After enrolling, you have unlimited access to this course for as long as you like - across any and all devices you own. Your access to course materials is for the life of the program.
Do I need any fancy cooking equipment?
No, you will only need what you would normally have in your home kitchen. You will be cooking traditional Italian cuisine, just like Guido's 'nonna' and 'mamma' have done for many years. No fancy cooking equipment will be needed
Do these recipes need a lot of time to prepare?
No, Guido understands that your life is busy and you have little extra time to learn long complicated preparations/dishes. Guido has specifically chosen recipes are traditional, fast and easy to prepare.
Do I have to been a professional cook to learn these dishes?
It does not matter what your experience in cooking is, all you need is a passion for learning traditional Italian cooking. You can be just starting out, wanting to learn something new, or you may have already mastered other cooking styles and wish to find out why Italian food is soooooo good! There are many tricks and cooking tips within Guido's videos, that can be applied to many other dishes.
Don't wait until your next trip to Italy
Enjoy authentic Italian cuisine in your own home, right now!