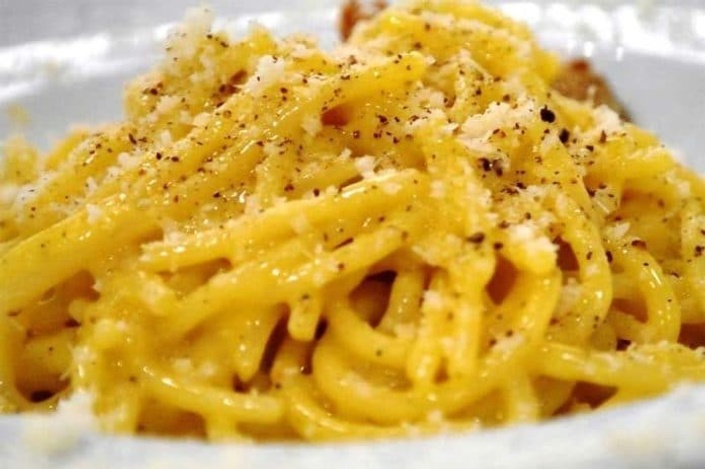 Pasta Carbonara LIVE Cooking Masterclass in Italy
Learn to cook Carbonara like an Italian, with Chef Guido
FREE CARBONARA MASTERCLASS
WEDNESDAY JANUARY 13, 2021 @ 9.00AM ITALIAN TIME*

Join our FREE Pasta Cooking Masterclass and learn how to make real Carbonara just like an Italian!

Master a simple and authentic Italian dish in just 20 minutes, so you can replicate this delicious recipe for your family and friends.
It's a unique opportunity to learn Pasta Carbonara from Chef Guido, who was born in Rome and still lives in Italy. He will share his family cooking secrets and stories with you. Make the perfect Pasta Carbonara as part of your New Year's Resolution!

WE WELCOME YOU INTO OUR FAMILY HOME IN ITALY FOR A FULL ITALIAN EXPERIENCE! INVITE YOUR FRIENDS AND FAMILY AND LET'S HAVE A COOKING PARTY TOGETHER!

Sign Up Now and you can download Chef Guido's family recipe for his Carbonara Masterclass! You can choose to cook along with Chef Guido or relax, grab a glass of wine, sit back and watch.
Your ZOOM link for Chef Guido's LIVE, fully interactive Cooking Masterclass, will be sent to you via email*.
*Please note: you need to 'opt in' (tick the box) for receiving promotional emails from us to receive the Zoom link ( if you 'opt out' of receiving emails from us, we cannot send the ZOOM link to join in LIVE). You can unsubscribe at any time,

ABOUT CHEF GUIDO
Guido currently runs live, Interactive virtual Italian Cooking Classes and cooking parties. He's also been teaching Italian cooking classes to English speaking guests in person in his family home for 15 years, just north of Rome in Italy.
Guido's cooking classes are much more than just a cooking lesson: he's also a storyteller, always ready to share a story from Italy or tell you about the history behind a recipe.
His classes are relaxed, fun and creative. Guido's English language is perfect and, because he was born and still lives in Italy, he's happy to answer any questions you have about his home country.
When Guido is not teaching Italian cooking, he is in charge of taking his guests on Rome Olive Oil Tours and Wine Tours, while running Convivio Rome Italian Cooking Holidays with his Australian wife, Sally.

JOIN CHEF GUIDO'S FREE LIVE CARBONARA COOKING MASTERCLASS ON ZOOM
For those in Australia, New Zealand: Chef Guido will host his FREE LIVE Carbonara Masterclass:

WEDNESDAY JANUARY 13, 2021 @ 9.00AM ITALIAN TIME*

* Time zones: 9.00AM Rome / 4:00 PM Perth W.A. / 7:00PM Sydney time / 9:00 PM Auckland NZ / 08:00 AM London / 3.00AM New York USA / 12 midnight CA. USA

Course Curriculum
Pasta Carbonara
Available in days
days after you enroll